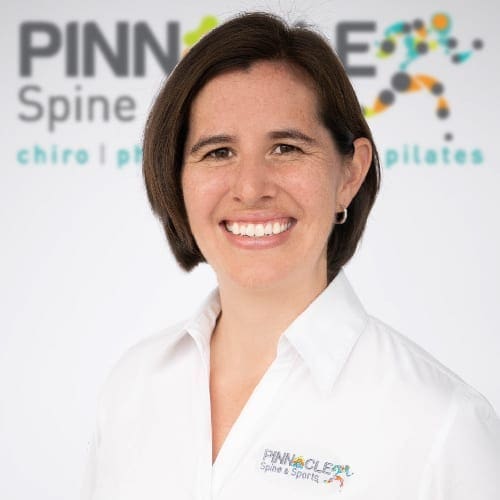 Naomi is a fully accredited level 3 Pilates instructor through the Australian Physiotherapy Pilates Institute. Combining her general physio skills with a tailored rehab approach drawn from a Pilates background, she is able to help with a wide range of physical conditions.
Naomi is the co-owner of Pinnacle Spine & Sports, alongside husband Ian. Originally joining the team of practitioners in 2015 after child #3 (and now continuing after #4), she launched our physiotherapy service and implemented a Pilates-based approach to rehabilitating and strengthening many of our patients following recovery from their injuries.
After graduating in 2003, Naomi spent the first 11 years of her physio career working in the public hospital system, primarily in the stroke and neurological rehab wards. Through dealing with concerned patients and their families suffering from these debilitating disorders, she further developed her already empathetic nature and is able to create a great rapport very quickly with all of her patients. She then furthered her musculoskeletal expertise by completing the highly respected level 3 Pilates Certification through the Australian Physiotherapy Pilates Institute (APPI). She is one of a few fully certified APPI Pilates instructors in Sydney.
Naomi now has 4 beautiful sons at home, and teaches our Physio Pilates classes here at the clinic. She is also available for one-on-one consultations during the week. With 4 boys to look after there's not much time for any headspace, but when she does get the chance she loves to hit the gym, go walking, or enjoy a nice Shiraz and a good Netflix show on the lounge.
Naomi is passionate about seeing people get out of pain and reach their full potential. Come and see her and chat about how she can help you to find your pinnacle.