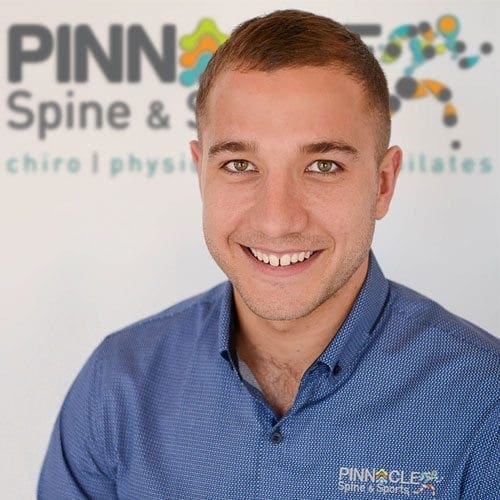 Grant's consulting hours:
Tuesday 8am – 12pm & 2 – 7pm
Wednesday 8:30am – 1pm & 2 – 7pm
Thursday 9am – 1pm & 2 – 7pm
Friday 8am – 12pm & 1 – 5pm
Every 2nd Saturday 7:30am – 12:30pm
Grant Colombo is an exceptionally skilled chiropractor who specialises in sports injuries, dry needling and the management of everyday spinal conditions.
Grant Colombo is a dedicated, passionate and highly motivated chiropractor who graduated with his bachelor and masters of chiropractic at Macquarie University in Sydney.
Grant thoroughly enjoyed the neurological and orthopaedic aspects of his education and realises their significance in providing excellent healthcare. He enjoys treating a variety of lower back, neck and extremity issues. He understands and educates about the importance of achieving and maintaining good posture for overall health and well being.
Coming from a sporting background having played soccer in the NSW premier league for 15 years, Grant understands the demands, stresses and injuries placed on the body and what is required to successfully manage and maintain the longevity of an athlete's career. Grant loves everything to do with sport and continues to participate and involve himself in the sporting world as much as possible.
Whilst treating sports injuries of particular interest to Grant, his expertise in managing everyday pain and injuries is what he enjoys most about working in a practice like ours. Seeing people overcome pain and dysfunction and regaining the ability to do what they want to do is what makes the job worthwhile.
Since graduating Grant has continued his professional development, most recently completing training in dry needling. This technique adds a whole new dimension to the care he offers, making him the perfect choice for managing a wide variety of muscular and soft tissue conditions as well as spinal pain.
Grant is looking forward to meeting you and helping you improve your health and get your body back to its optimal state and functioning!