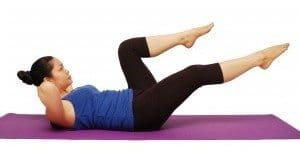 Pilates is an exercise technique designed to strengthen muscles that support and stabilise the spine in everyday movements. Research has found that weakness in specific muscle groups such as the multifidus, transverse abdominus and pelvic floor are a significant contributor to ongoing back pain. Part of our commitment here at Pinnacle Spine & Sports is to not just get you out of pain, but stop the pain from coming back. A course of Pilates is one of the best ways to aid in this.
Get your first 7 days of unlimited* classes FREE
We run two types of Pilates classes here, though both are somewhat similar in their approach:

Physio Pilates: run by one of our physiotherapists, these classes are preceded by a one-on-one consultation with the physio to assess your specific condition. Classes are an intermediate level, or one-on-one sessions are also available. Minimal equipment used. CLICK HERE for more info on Physio Pilates including timetable & costs.
Matwork Pilates: run at various times throughout the week by Pilates trained fitness therapists. Suitable for beginners through to advanced, all exercises are floor exercises performed on mats. CLICK HERE for more info on matwork Pilates including timetable & costs.
Pilates is acclaimed as 'the fastest growing exercise technique worldwide'. It was once a well-kept secret by Hollywood celebrities, but now health professionals and the general public worldwide are committing to what is being termed a more 'mindful' and 'intelligent' exercise approach. It is a mind body conditioning exercise program that targets the deep postural muscles of the abdomen and spine to improve overall central core stability and posture.
Founded by the late Joseph Pilates who was born in Germany in 1883, it has continued to be taught since his death by his many disciples and is taught in several different forms today.
"In 10 sessions you will feel the difference, in 20 you will see the difference and in 30 you'll have a whole new body."
– Joseph H. Pilates
*Classes led by a physiotherapist require an initial consultation to be carried out by one of our physios prior to commencing class. These classes can only fall under the free 7 day pass if this consultation has been completed and approval given to commence class.