We run two types of Pilates classes here at the clinic: Matwork Pilates and Physio Pilates. This page gives info on Physio Pilates. To find out more about Matwork Pilates, please CLICK HERE.
Our Physio Pilates classes, run by our physiotherapists, are designed at targeting the core areas of weakness and imbalance. Physio Pilates corrects these weaknesses and imbalances through a form of dynamic stabilisation retraining that reconditions the body from the central core to prevent the recurrence of and treat low back pain and a range of other musculoskeletal dysfunctions. Similar to our Matwork Pilates classes, exercises are done on mats with limited use of equipment. This allows you to easily replicate the exercises at home between classes.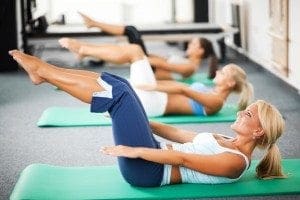 The style of Pilates taught in these classes has been developed by the Australian Physiotherapy & Pilates Institute (APPI). It was developed by and specifically for physiotherapists, and has a particular focus on aiding in rehabilitation in the clinical setting, and improving strength and performance for the prevention of injuries.
How do I get myself into a class?
Physio Pilates classes require an initial consultation with the physiotherapist first. During this appointment, the physio will run a thorough assessment to determine your areas of weakness or imbalance, and your general level of core strength. A specific plan to fix your condition will be formulated. Our goal is to get you into a class as soon as we can, but we need to make sure you're up to speed to be able to handle the level of the class. The classes are generally an intermediate level.
If the physio decides that you're not ready for a class yet, you have the option of doing some one-on-one Pilates sessions for a few weeks until you improve enough, or you can opt for a home exercise programme which will be specifically tailored for you to help get you ready for the classes. If you've done Pilates before, there's a good chance you will be able to enter straight into a class. If not, you may need some extra guidance to teach you the correct positions and movements to ensure that you're getting the most out of the classes. If you enter a class before being up to the correct level, you will only fall behind and lose the potential benefit you would have otherwise gained.
Get your first 7 days of unlimited* classes FREE
Physio Pilates classes at The Pinnacle Studio are held at:
9:30am – Saturdays
7:30am – Wednesdays
9:30am – Wednesdays
8am – Fridays
10am – Fridays
9:30am – Saturdays
Pricing:
Initial Consultation (40 mins): $120
One-on-one Pilates session** (30 mins): $90 
Single Class (50mins): $30 each
10 Class Pass: $270 ($27 per class with a 14 week expiry)
All Physio Pilates sessions (initial consultation, classes, one-on-one Pilates) can be claimed from your health fund as a physiotherapy consultation or group physiotherapy session
*These classes can only fall under the free 7 day pass if the Initial Consultation with a Physio has been completed and approval given to commence class
**If required. Two-on-one sessions are also available – Enquire for details)