CHRC Community Health Forums
Be informed. Be entertained. Be equipped.
The CHRC Community Health Forums are an opportunity for you to hear a range of short, sharp & informative talks from health experts in our area & beyond.
The forums consists of 4 speakers, who each present for 12-15 minutes including question time. The talks aren't designed to be an in-depth analysis of the topic, but an entertaining fly over with a couple of important take home points.
They are completely free to attend, but bookings are essential as numbers are strictly limited.
Stay tuned for more info on our 2017 series, coming soon.
Tuesday 15 November, 2016 @ 7:15pm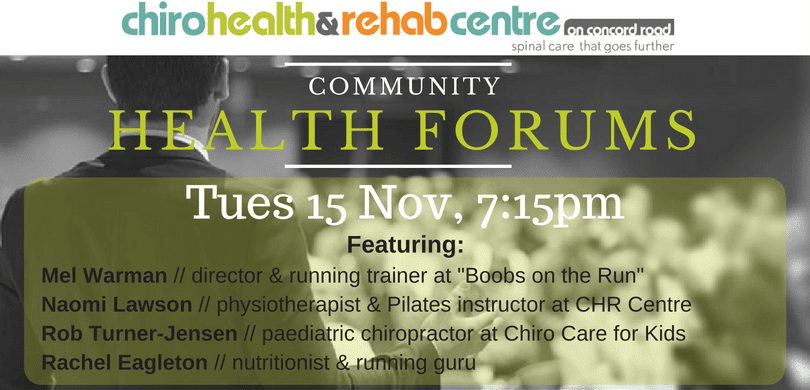 Speakers for Tues 15 Nov
Mel Warman: Not getting the results you want from running? Why your approach probably isn't working.
Mel is the founder and owner of Boobs on the Run, a community of women who either want to start running, or increase their current running level in a relaxed & fun environment. A keen runner herself, Mel loves seeing women take up running for the first time and seeing the immense health benefits it brings. Their approach is unique yet simple, and might be a bit different to the way you're tackling your running regime. Boobs on the Run donate a portion of all of their course fees to breast cancer research, a cause close to Mel's heart.
Naomi Lawson: The one key thing you need to know to avoid injuries in everyday life.
Naomi is a physiotherapist and APPI Certified Pilates Instructor here at the CHR Centre. Contrary to popular belief, most injuries Naomi treats are not those suffered by elite (or even not-so-elite) athletes, they're injuries suffered through everyday activities. Naomi will reveal the one key thing you need to do in order to avoid ending up in the same boat as most of her patients.
Rob Turner-Jensen: Young Spines – how your child's posture could be limiting their developmental milestones, coordination and learning.
Rob is a chiropractor and founder of Chiro Care for Kids in Concord West. A renowned paediatric (kids) specialist, he has treated kids of all ages from newborn through to late teenagers, and into adulthood. Throughout his career he has become acutely aware of trends that are affecting the development of children today, and how posture can limit neurological development. If you have kids of any age, you'll want to hear about how you can give them the best chance at developing healthy, active bodies and minds.
Rachel Eagleton: Forget the fads, keep it simple. Making sense of the noisy world of dietary advice.
Rachel Eagleton is a university qualified nutritionist and mother of teenagers, both of which qualify her to speak on the topic of finding a simple dietary balance in the home. Amidst all of the noise of fad diets and nutritional information (and misinformation), Rachel will help you find clarity and develop some simple strategies to make sure you are feeding your body well. Good nutrition doesn't need to be difficult. Rachel also specialises in sports nutrition and helping you fuel your body for the rigours of exercise of any level.
Tuesday 22 November, 2016 @ 7:15pm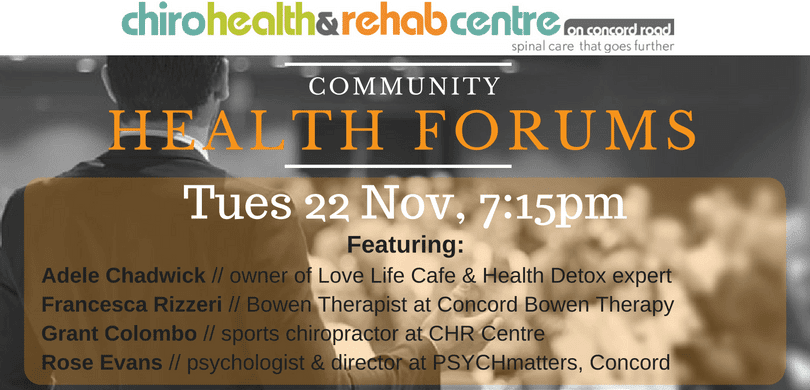 Speakers for Tues 22 Nov
Adele Chadwick: Why detox isn't a dirty word
Adele is the owner of the Love Life Cafe in Concord West. Far from a regular cafe, Adele has combined her love of hospitality with her knowledge of health & wellbeing. Through years of self realisation, she now integrates a deep desire to help her customers achieve their best possible level of health through a range of different services. If you think a 'detox' is all about boredom and monotony, then think again….you could be missing out on a myriad of health benefits.
Francesca Rizzeri: 5 ways you never thought Bowen Therapy could help you
Francesca runs Concord Bowen Therapy and loves helping people of all walks achieve great results in a range of different conditions. She holds a CertIV in Bowtech Bowen Therapy through Bowen Training Australia, and uses this technique to alleviate a variety of musculoskeletal conditions. Come and find out how this rapidly growing technique could help you.
Grant Colombo: Why every sportsperson of every standard needs a chiropractor in their corner
Grant is a chiropractor here at the CHR Centre. He is currently completing his accreditation with FICS, the International Federation of Sports Chiropractic (Fédération Internationale de Chiropratique du Sport, to be precise). A former Premier League soccer player himself, Grant has experienced first hand the unique benefits that chiropractic can bring to the table when dealing with sports injuries, and how it can complement other therapies such as physio & personal training to achieve incredible results in the sporting arena.
Rose Evans: How to recognise if your child or adolescent has anxiety, and how to help
Rose is a psychologist and director of PSYCHmatters on Majors Bay Road, Concord. Rose is also the National Supervising Psychologist for Australian Mensa and a director of CAE Psychological Profiling, an educational and forensic assessment centre. Rose is skilled in child and adolescent anxiety issues and will be discussing ways of recognising if your child or adolescent has anxiety.